Introduction
After a number of years in the antiques trade Jeffery Bates opened Bates and Hindmarch Antiquarian Books in North Yorkshire with an old friend and fellow bibliophile, Professor Emeritus Ian Hindmarch. In the nineties Ian Hindmarch moved south to take up a chair at the University of Surrey and the business became solely owned by Jeffery Bates but retained its already well established name. Bates and Hindmarch deals primarily in books, photographs, documents and memorabilia of India and the East India Company, with emphasis on Viceroys, Princes of India, Royal Visits & Durbars, and military history. At the moment the business is conducted from a private address with stock kept in a secure store. Visitors can sometimes be received but  strictly by appointment. Having lived in Leeds for most of his life he recently spent five years in Edinburgh before moving to Cheltenham in 2012.
Profile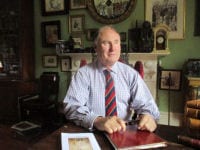 Jeffery Bates read history at the University of Wales and continued graduate studies at the University of Durham. He has travelled extensively in India since the early 1980s and is currently especially interested in the relationship between the princely rulers of  India and the East India Company and the Crown. His other areas of interest are in military history, architecture, medals, heraldry, antiquarian folding maps, the Grand Tour, and decorative antiques. He is a fellow of the Royal Asiatic Society and the Royal Geographical Society and a member of the Royal Society for Asian Affairs, Orders and Medals Research Society, the Military Historical Society, BACSA, and the Bookplate Society. You can now follow him on instagram at @batesandhindmarch where images of our stock, present, past and forthcoming appear along with more eclectic views of life: a link is provided at the top of the Home page. Never happier than when mudlarking on the Thames foreshore although none of the items in the website have originated there.
Services
As well as offering items for sale via this website and via abebooks.com Jeffery Bates offers other services such as:
Direct purchasing. He is interested in buying items in his specialist areas. Valuations can be made for sale, probate or family division. In the past he has valued such varied things as the library of a major country house and the silver and medals of a British Army Regiment.
Consultation work for various auction houses, museums, film production, and other dealers within his specialist areas. This sometimes involves cataloguing material. Sale arrangements for private individuals or institutions which may involve negotiating with institutions or auction houses. Not being tied to any particular auction house enables him to suggest the best solution for a client, which may not always be to use a single auction house.
Putting together collections or libraries in his specialist field or more generally. In recent years he has put together a major collection on the East India Company for a client, libraries in a shooting lodge in the Scottish Borders, a large London town house, and a European villa.
Books for decorative purposes, especially those bound in vellum. We are happy to work with private clients or interior decorators who are interested in putting together displays, tablescapes, or furnishing bookcases.